Mollys At The Beach
Waihi Beach's relaxed and uncomplicated fashion destination.
Catering for the 30-80+ age group in sizes 8-18, we have a wide range of quality New Zealand and imported labels. We cover (almost) everything from smart/casual fashion through to special occasion and wedding wear.
Feminine, Classic, Beautiful.
We have always been about colour, comfort and versatility – getting you looking fantastic for the best price! Every season we introduce a handful of new labels to keep up with the trends, keeping our store fresh and fashion forward. You can also find day-to-day essential wear and gorgeous accessories to compliment any outfit.
Our labels include: Artisan, Bazaar, Redhead, Meredith, Matisse, Macjays, Loobies Story, Jackie Peters, David Carmody, Scope, Vassalli, Seven Sisters, V2, Totally Lucid, Cara Rossi and many more.
New Labels coming… Noa Noa, Toby by David Pond, Frank & Molly, Eleonora Amardi, Deion
Mollys Essentials
Our sister store for easy casual and weekend wear.
Whatever the season, we have you covered.
For the Winter we carry a fabulous selection of jeans that fit the typical New Zealand Woman! The styles are comfortable as well as being stylish, smart or funky. Check out our essential range of easy wearing tops, jackets and merino get-ups in either basic, zipup or hooded styles. We also carry a small range of cards, gift and homeware items throughout the winter months.
The warmer months of Spring and Summer bring the arrival of fabulous swimwear, shorts and resort-wear essential to any beach lifestyle.
Our labels include: Vassalli, New London, TruLuxe, PJs, Berlin, Brave & True, Ice Express, Holiday, Adrift, Scope, Togs Swimwear, OKA b and many more.
New Labels Coming… Ruby Yaya, Capriosca Swimwear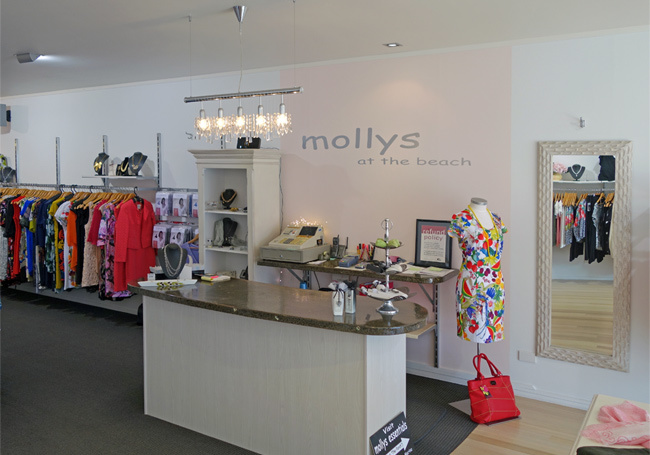 Mollys at the Beach
19A Wilson Road
Waihi Beach 3611
P: 07 863 5369 M: 027 2799943
Winter Hours
10am - 4.30pm Monday - Thursday
10am - 4pm Saturday
10am - 3pm Sunday
Summer Hours
Open Everyday throughout Summer (closed for only 5 public holiday days)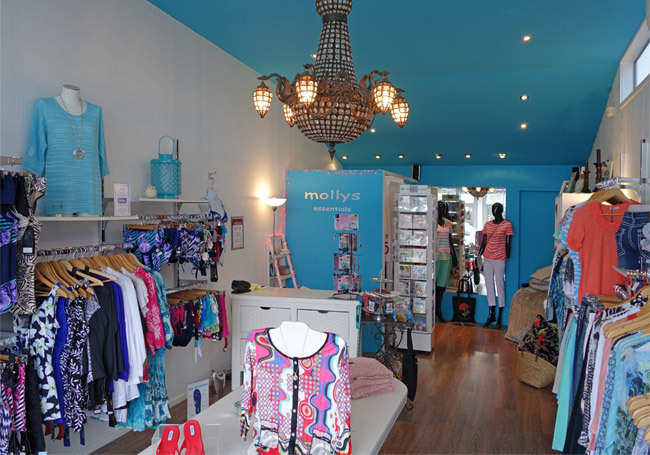 Mollys Essentials
23C Wilson Road
Waihi Beach 3611
P: 07 863 5369 M: 027 2799943
Winter Hours
10am - 3 or 4pm Wednesday - Sunday
Summer Hours
Open Everyday throughout Summer
Contact Mollys
P: 07 863 5369
M: 027 2799943